Our Pre-K students have been comparing weight while exploring capacity this week. Learning is messy and fun!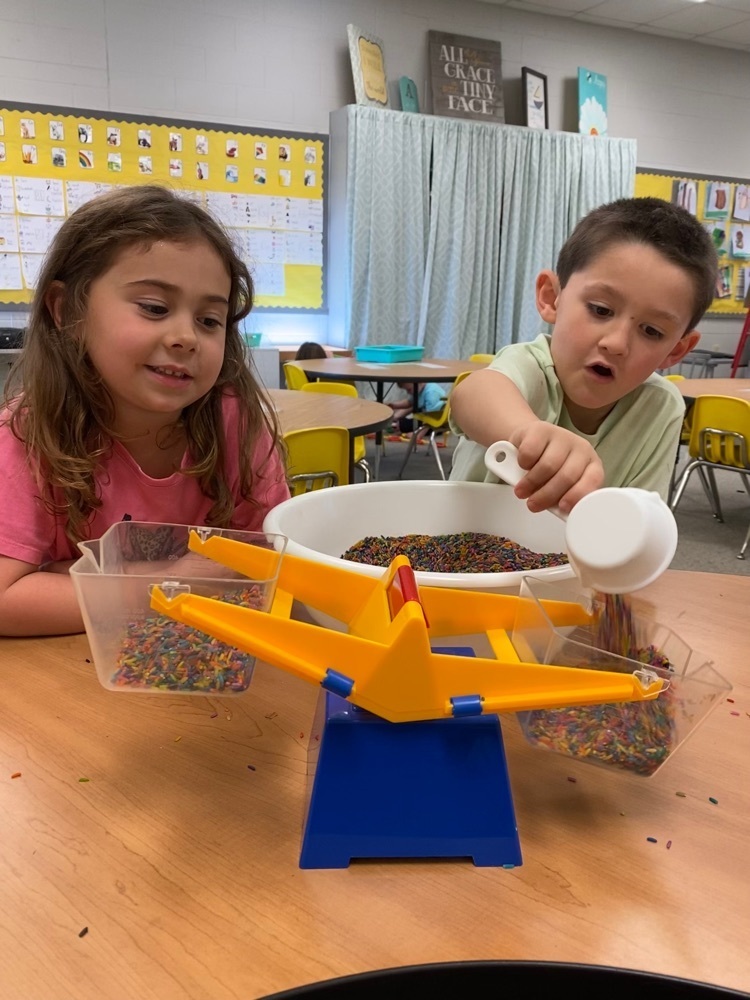 Just a reminder!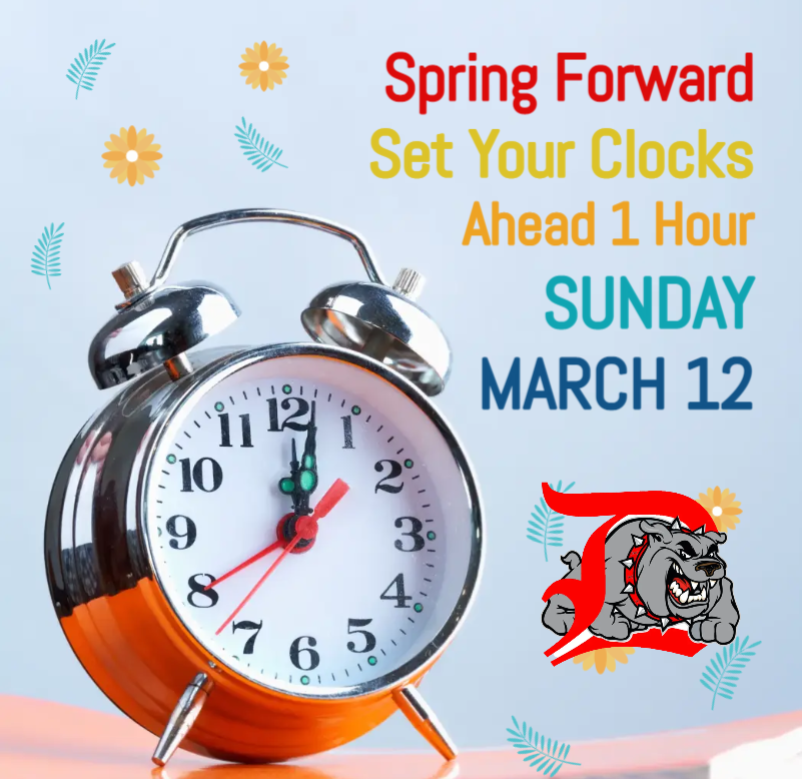 4th graders did an excellent job presenting their water cycle projects that they created and explaining how the water cycle works to the 1st graders.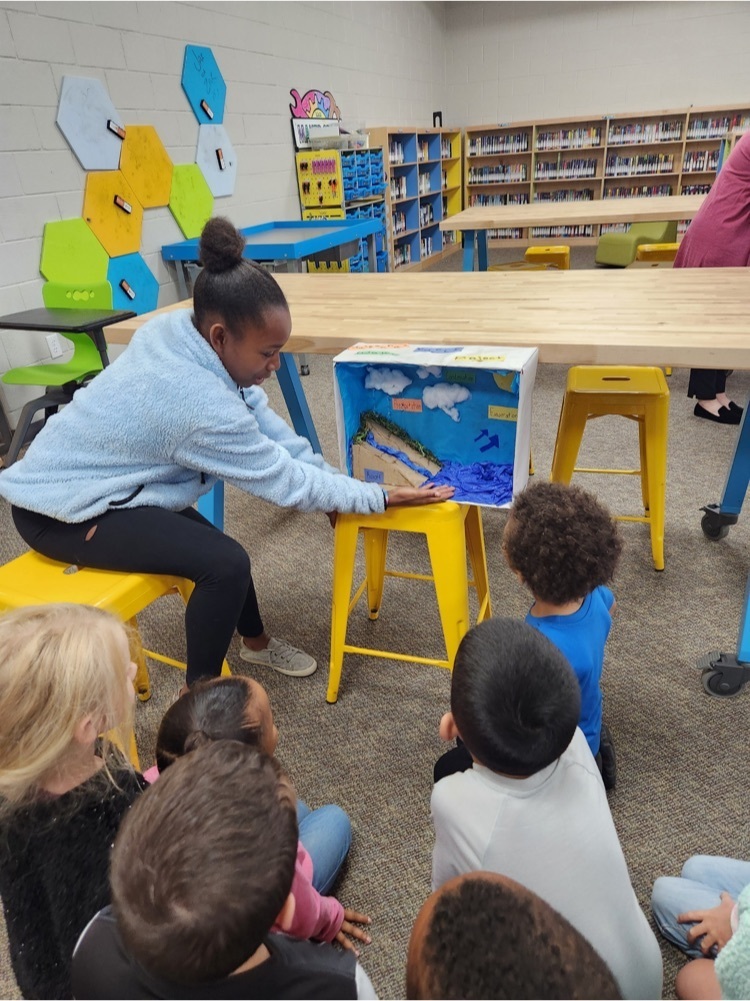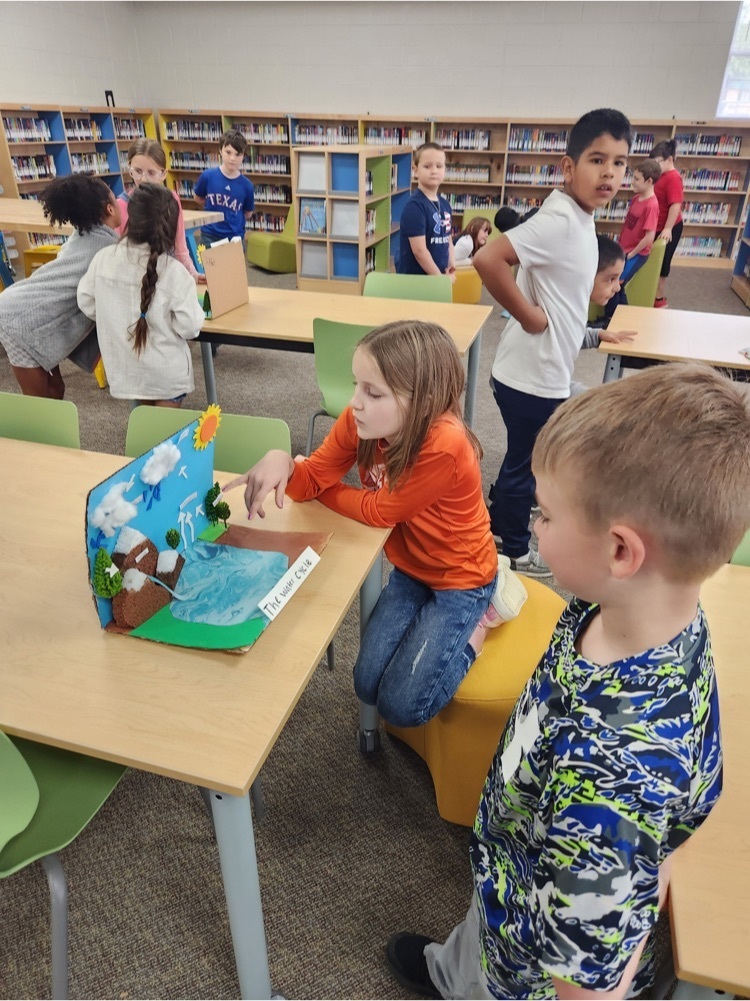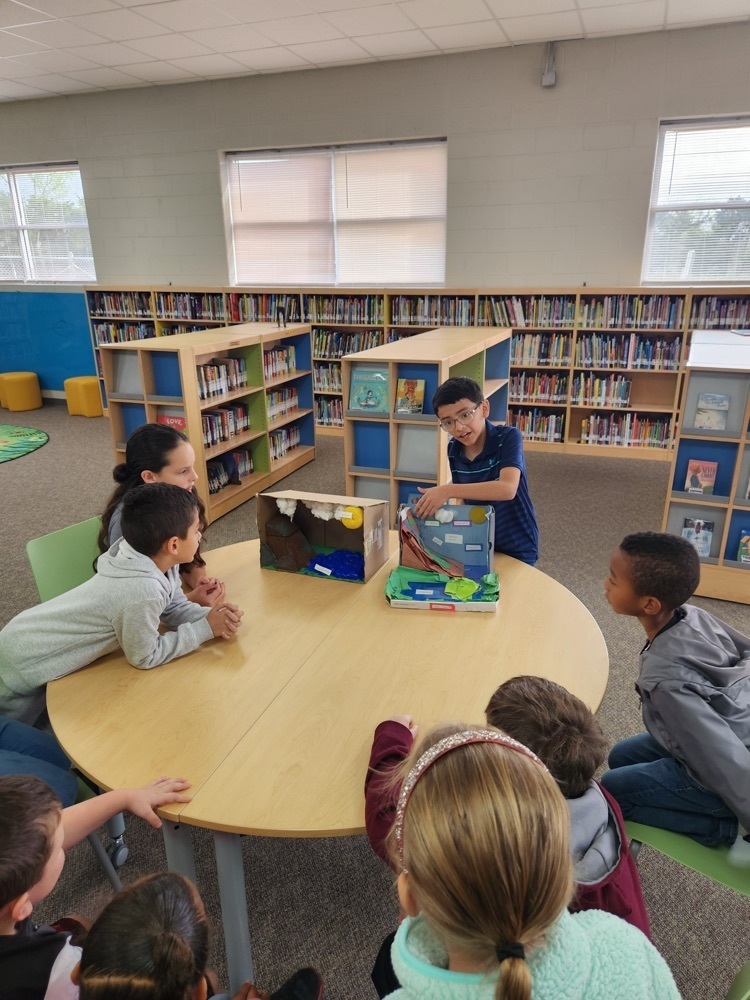 NOW ENROLLING ALL GRADES! COME JOIN OUR FAMILY! TRANSFERS WELCOME! We will be hosting an Open House in April. Stay tuned for more details. Click on the link to begin the registration process.
https://forms.gle/gghehpiS1nmWgTpx9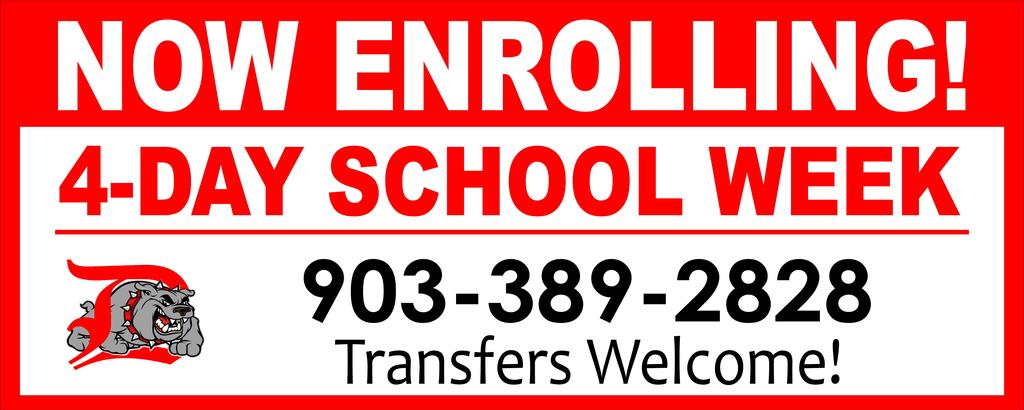 The Junior High boy's and girl's track teams participated in the Leon track meet this week. Both teams did awesome!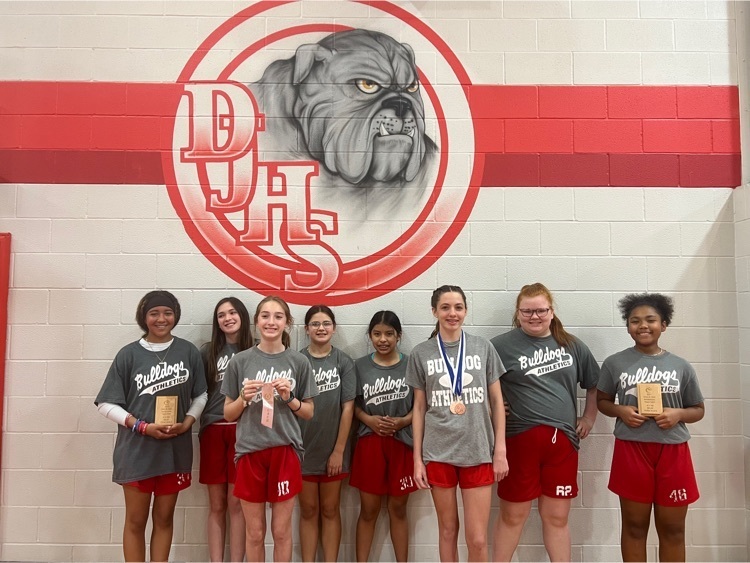 The 4th and 5th graders had fun presenting plays as a part of their drama unit in Reading.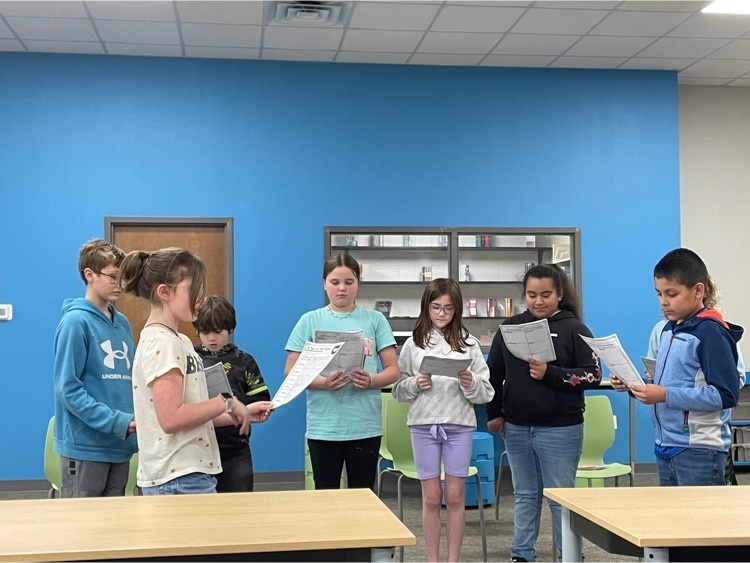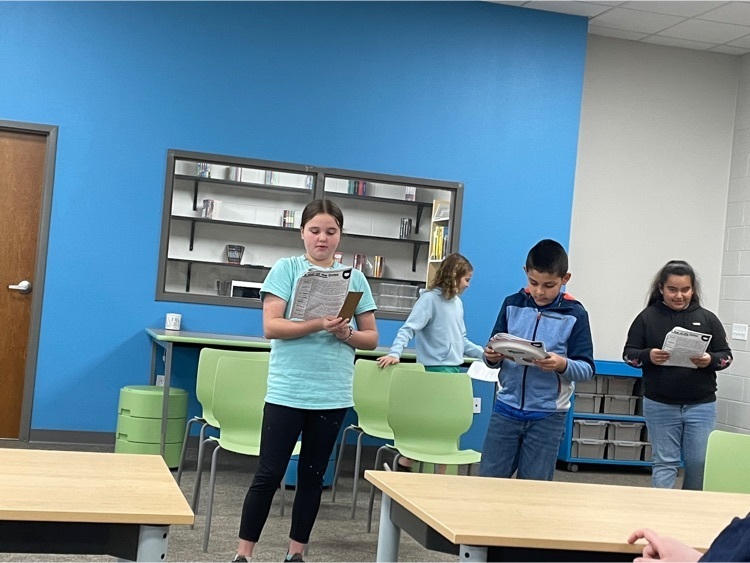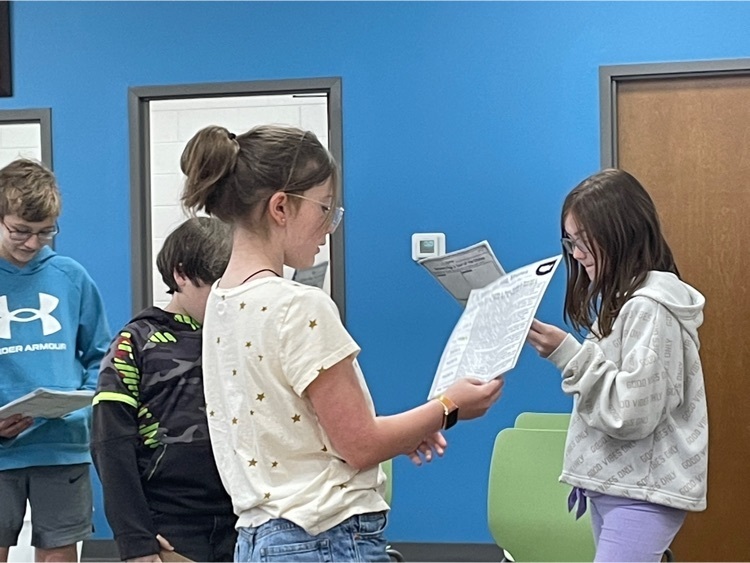 Have a safe and fun Spring Break!

Pre-K enjoyed readers from 7th grade today, who researched, wrote and bound their own nonfiction children's books in science class.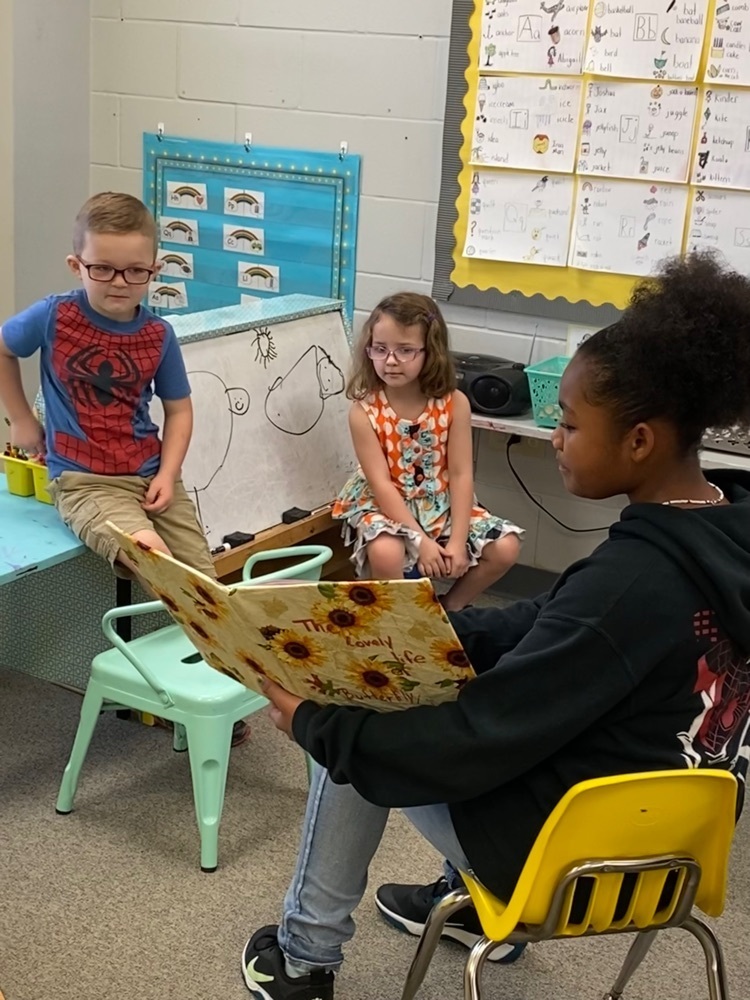 Just hangin' around waiting on Spring Break!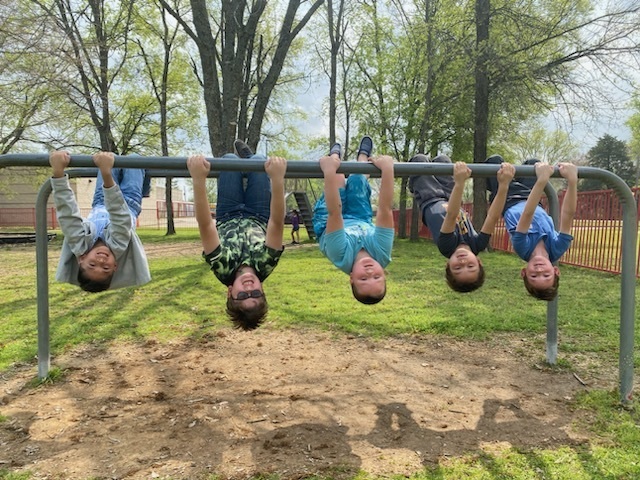 The Junior High will be participating in the Leon track meet after school today . Attached is a schedule of events. Good luck to all participants and go Bulldogs!
UPDATE!!!! Due to Track Meet today, this has been moved to Friday from 12-1. This is an optional event. If you want your child to stay, please fill out the form by scanning the QR code.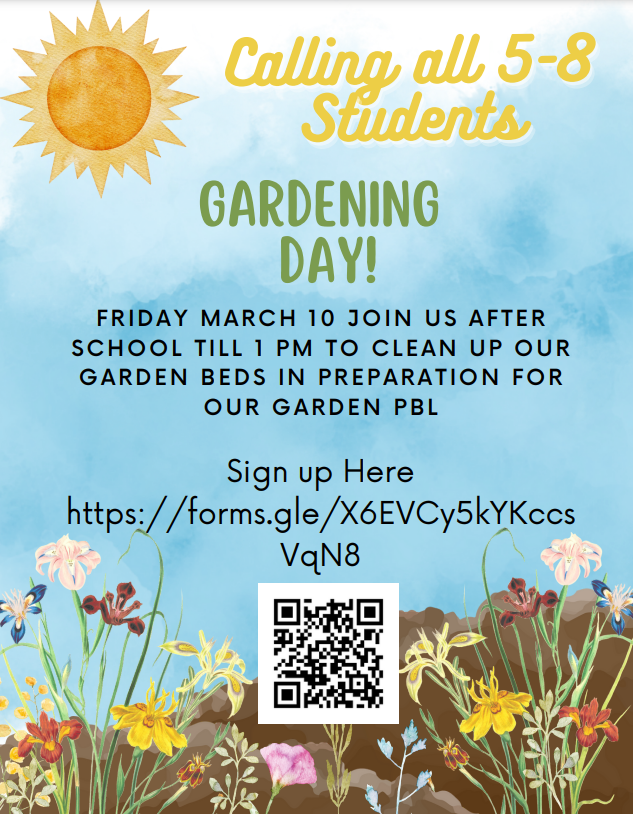 Teague Jr. High Track Meet Update: All throwing events have been cancelled due to last night's rain and current field conditions. All other events are continuing as planned. Attached is the event schedule. Keep in mind running events may begin earlier because of throwing cancellations.
Today is Dr. Seuss' birthday and Read Across America Day! Our Pre-K through 3rd grade students had their favorite visitor come read to them. Thank you, Sheriff Shipley for taking time out of your busy day to read to us Dr Seuss' book, "Would You Rather Be a Bulldog? " I mean "Bullfrog..." We always enjoy your visits! Happy birthday, Dr. Seuss!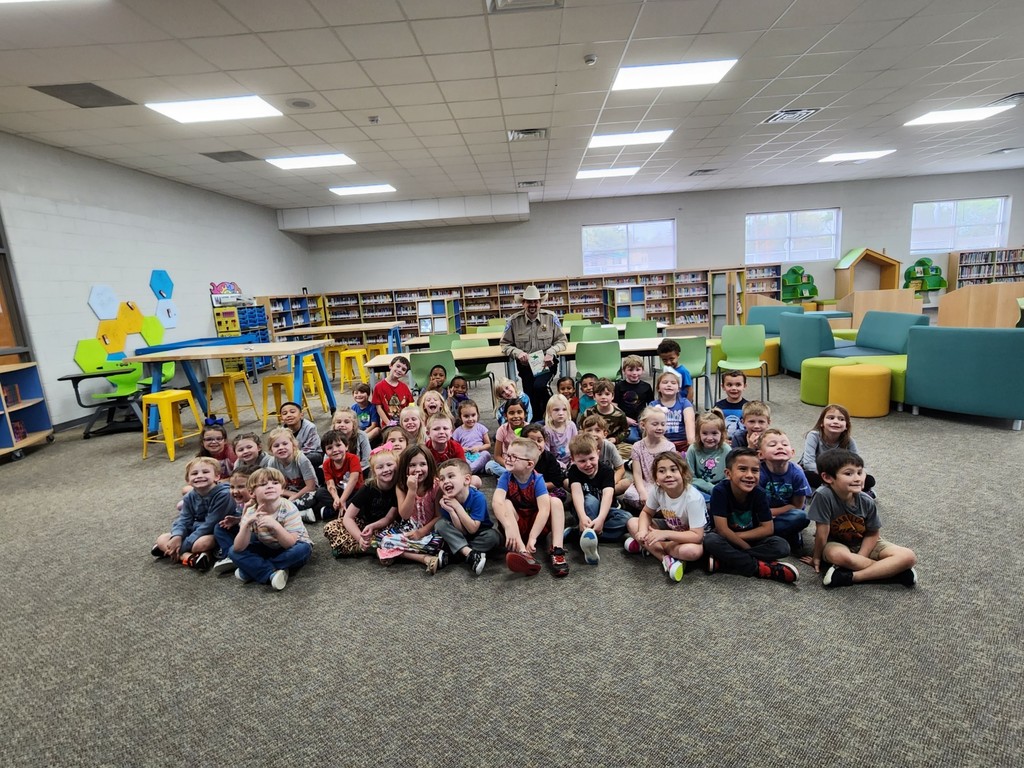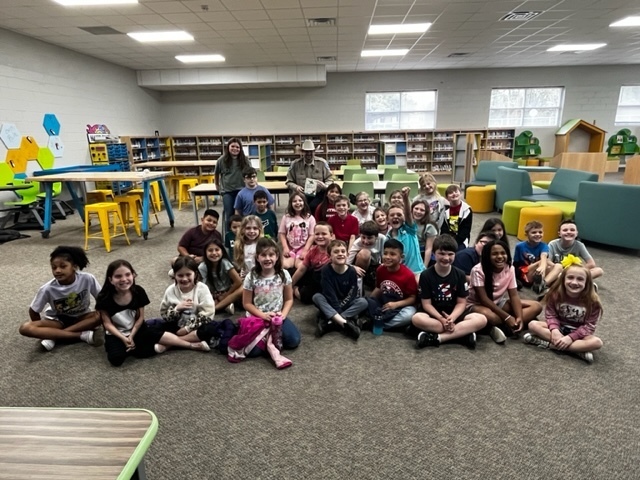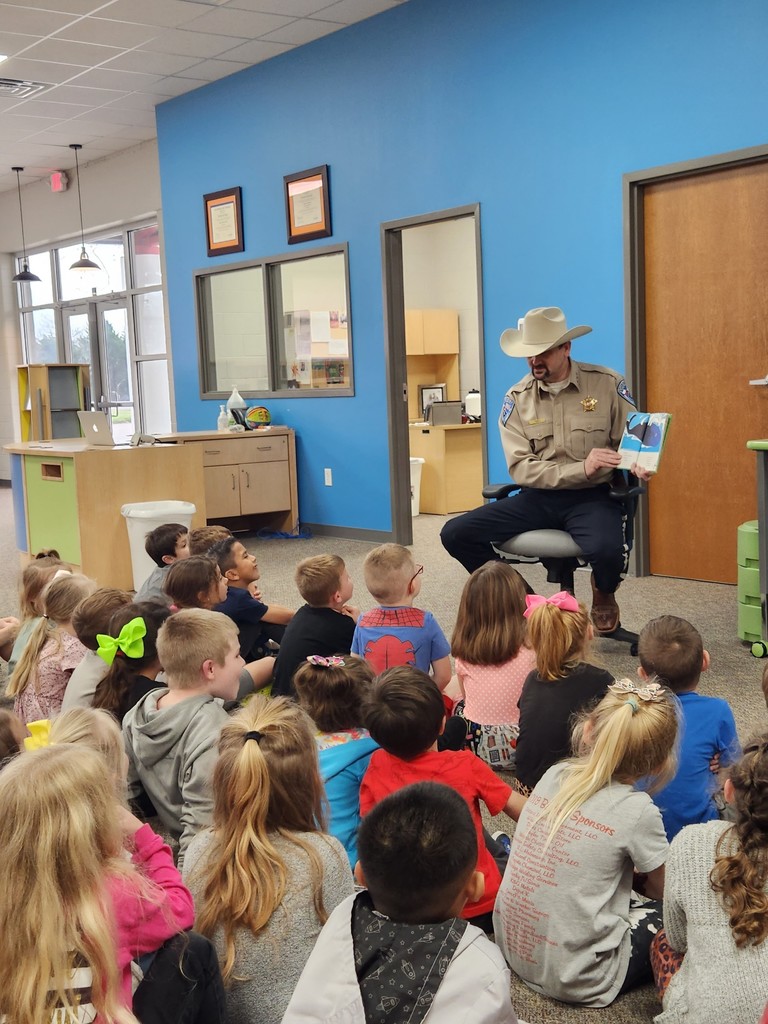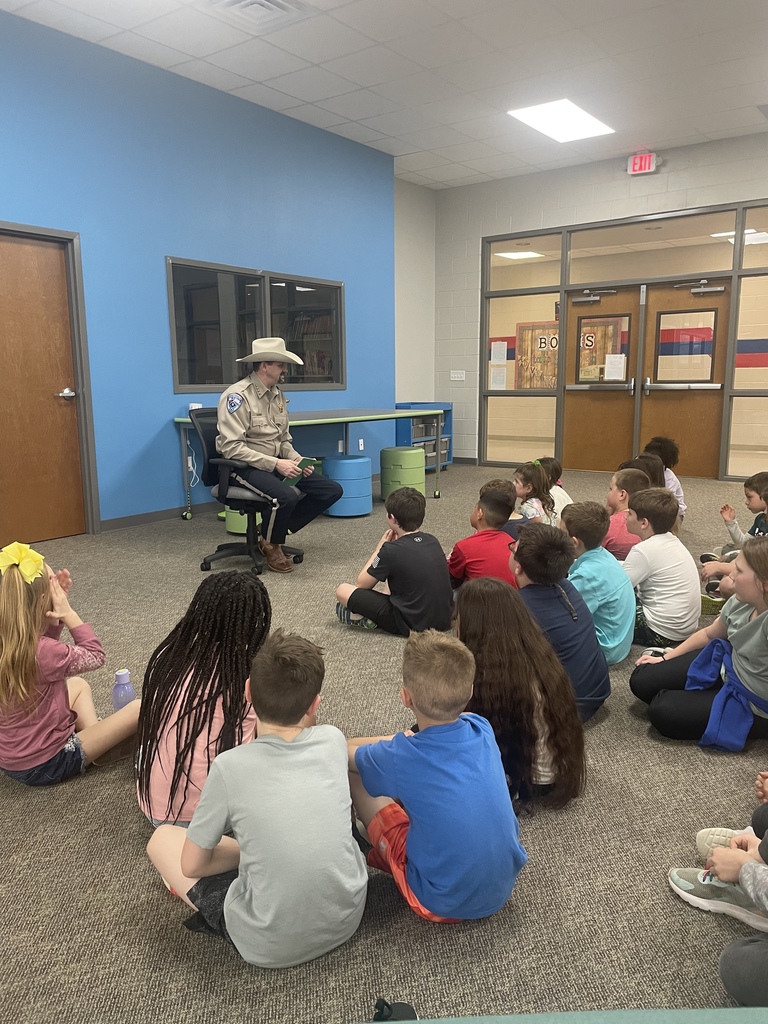 Mrs Lindy Stacks, kindergarten teacher, at Dew ISD, was awarded Teacher of the Month for the month of February by Freestone County Texas Farm Bureau. We are so excited and proud to have her as part of our team! She is a hard worker and is dedicated to each and every one of her students, past and present! Thank you Ryan Mathison and Kayse Turner for coming to Dew ISD to present this award.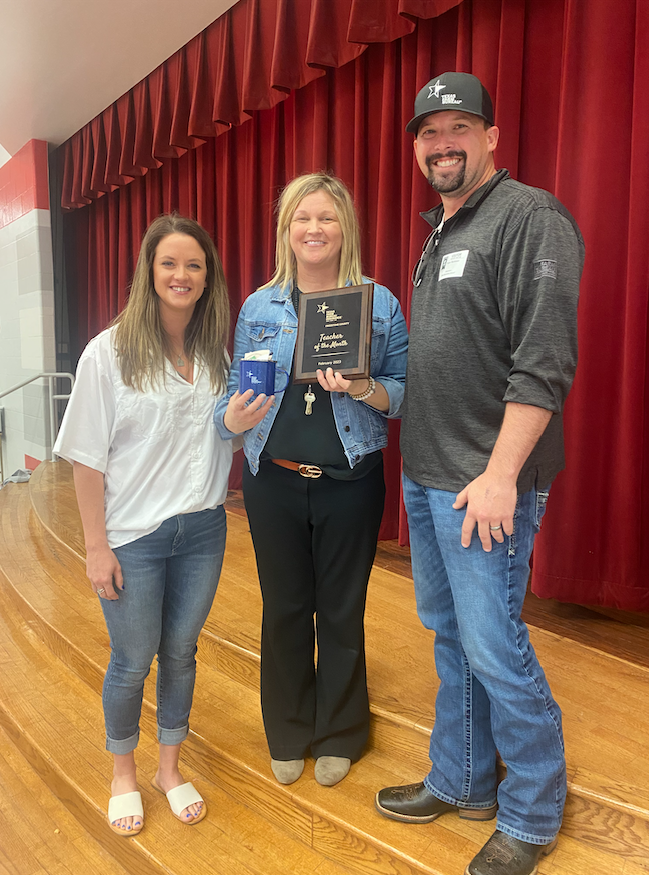 We had a successful Community Meeting this evening and received an abundance of support from the attendees. Here is a link to all of the information regarding the 4-day school week for the 2023-2024 school year. If you have any questions, please feel free to give us a call at 903-389-2828.
https://www.dewisd.net/documents/4-day-info/421196

TONIGHT!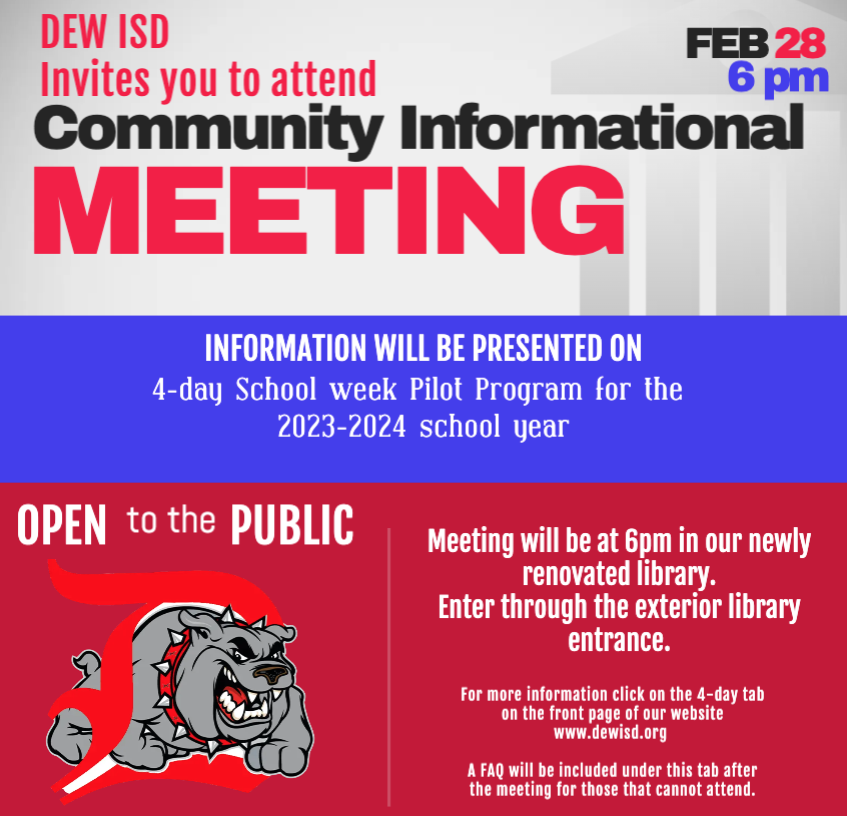 CONGRATULATIONS to our Dew ISD Band students in grades 6th – 8th for their AWESOME performances at the 2023 Riesel Solo & Ensemble competition. This year we brought home 20 medals and 3 ribbons. Thank you all for representing Dew ISD through your preparedness and your desire for musical excellence. WAY TO GO!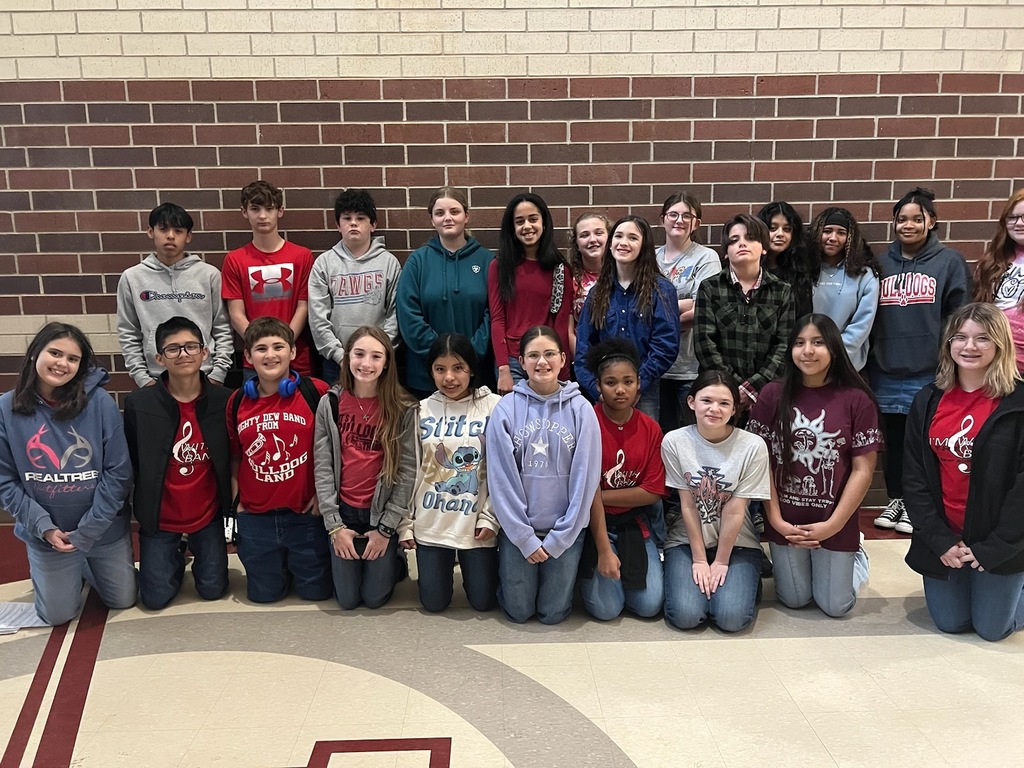 Pre-K and Kindergarten Roundup will be March 10 at Dew ISD. We are excited to announce our new 4-DAY WEEK!!! It's a great time to join our Bulldog Family! If you are interested, please click on the link below:
https://forms.gle/iRcZBzeNLxsTaeqD9
New things are happening at Dew ISD. Please read the letter attached and see our website for more details.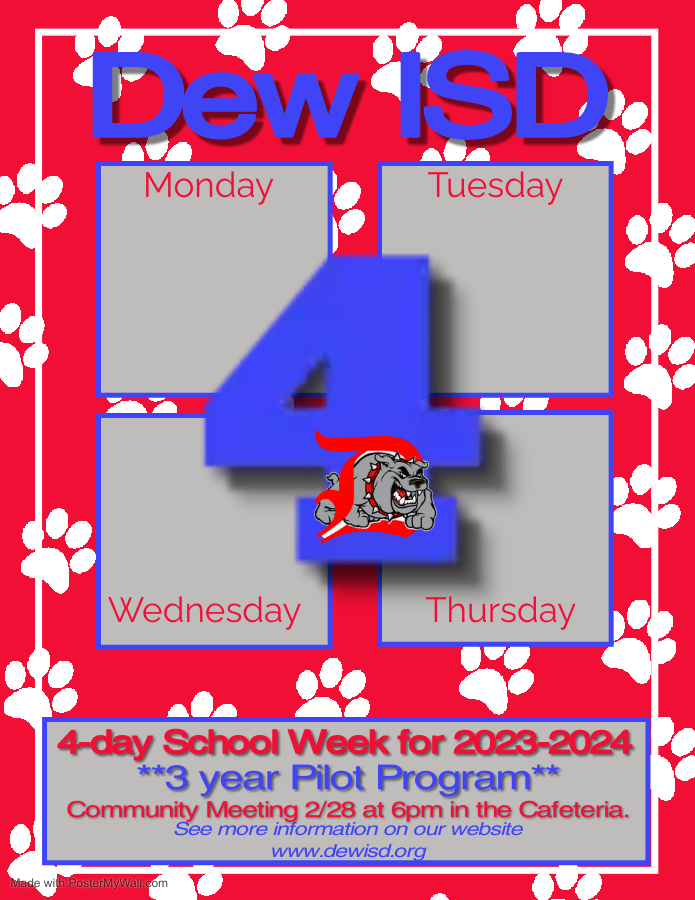 Track is in full swing. Students are practicing daily during the period and will be notified in advance of any after and/or before school practices.